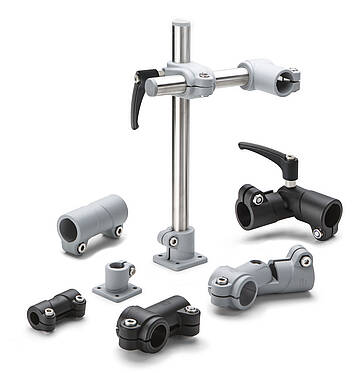 When it comes to clamp connectors, those universal connecting elements for tube-based constructions, most people think of parts made of metal. However, JW Winco now offers clamp connectors of glass fiber-reinforced polyamide for diverse configurations. These connectors can withstand temperatures up to 212 °F (100 °C) and are used in applications where corrosion resistance is important, weight is limited, or visual appearance is a significant factor. After all, these plastic connectors feature appealingly smooth and matte surfaces and attractive coloring.
These lightweight yet quality plastic parts provide a high-end solution with defined load capacities. Depending on the tightening torque of the screw connections, JW Winco lists the axial extraction force, the radial torsional moment, and the rotation moment if an articulated axis is present. The connectors are designed to fully encompass typical construction tubes to create a nonpositive clamping connection. The tubes are fixed in place with socket cap screws and nuts of stainless steel or with a hand lever (GN 911.9). These are specially adapted to the plastic used and are particularly useful when the tube constructions need to be modified frequently or without tools.
JW Winco offers these plastic tube connectors in a variety of configurations and dimensions. Which means there are no obstacles to implementing even the most individual designs. And if different tube diameters are required, special ribbed adapter bushings (EN 290), also of polyamide, can be used.
Back