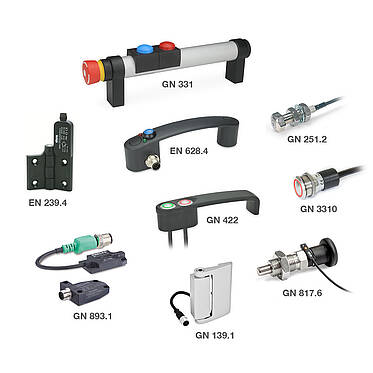 Setting bolts with a cable.
Cabinet U-handle with signal light.
A fluid level indicator that provides visual information and sends an electronic signal thanks to a REED contact.
Undoubtedly, JW Winco standard parts are becoming even more functional - multifunctional, to be precise. Suitable for a wide range of applications, such as remote monitoring of the fill and temperature levels in hydraulic tanks, displaying process situations, or reporting the position of parts in machines.
For example, the smart GN 251.2 stop bolt reports whether workpieces are precisely positioned in the machining process thanks to the integrated end position switch. The GN 817.6 indexing plunger and its pneumatically-operated, fully compatible counterpart, the GN 817.7, send a high signal as soon as the plunger is successfully engaged. Information on safety-related opening operations is provided by the safety hinges of the GN 139 and EN 239 series, which are available in zinc die-cast, stainless steel, and fiber-glass-reinforced polyamide. The angle-dependent switching point can be adjusted individually, and a combined closing and locking query can be made in conjunction with the above-mentioned indexing plungers. This improves safety and saves energy. For example, when the doors need to be closed to ensure effective cooling in control cabinets. The GN 893 proximity switches are equipped with inductive sensors that are installed in power clamps and report that a workpiece is clamped in the machine properly.
There are other control elements in JW Winco's portfolio in addition to such sensors: GN 331 and GN 332 machine tubular handles provide status information via a light signal, the push button can call up further functions, and the emergency stop switch, which is also integrated, interrupts the system's safety chain and safely stops it to protect the operator from injury and protects the machine from damage.
The GN 422 and EN 628.4 cabinet U-handles use a push button, but do not have an emergency stop. The GN 3310 switches provide immediate feedback in the form of a red or green illuminated push button.
JW Winco relies on cable-based connections over radio transmission, as this simplifies integration into control systems while improving reliability at the same time.
Back